P

lease note that this web site will be closing at the end of the 2019/20 year. Please go to the new website.  If you have any questions about this move please contact Ian Gaskell or Dave Lawson.
Your 2019/20 Captains and Committee
It is with great pleasure that the Captains welcome you to Donnington Grove Membership for 2019 – 20. We pride ourselves on being a friendly club and hope to see you at our many events throughout the year.
Please do get involved with our many competitions, roll-ups, social events and golfing breaks. New for this year is a Seniors roll-up on Mondays at 8.00 am. Ladies; as before Monday and Wednesday mornings. The Club roll-ups, open to all, are on Tuesday and Thursday mornings. Finally, the clubs flag ship is the ever-popular Champagne roll-up throughout the summer on a Friday afternoon which is followed by a get together in the bar for subsidised food and a weekly draw; those members present when their membership number is drawn receive a cash prize kindly donated by the owners Sandtrend.
We have a thriving match circuit with other clubs in the area. The seniors organise over 50 a year in various formats as well as TOGs fun days at Donnington Grove which use a variety of formats. All 3 sectors of the club are keen to add new members to their match participants lists and are involved in county competitions for which we would like to encourage you to sign up. The Ladies and Seniors have well established mini-tours annually which have proved very successful and popular.
This is an exciting year for the club as we are hosting Jamega Pro Golf and Europro tour competitions. This has been possible because of the rapidly improving condition of our championship course; we will all see the benefit of this as the year progresses.
For those of you keen to improve your game regular clinics are run throughout the year with our Professionals who have a wealth of experience.
There is always something for everyone at Donnington Grove and if we haven't thought of it and you wish to do it then please contact one of the Captains or Tom or one of his staff in the Pro shop with your suggestion. It is your Club and we hope that you will be proud to be a member of it and gain maximum enjoyment from your membership.
The Captains look forward to welcoming new members and to playing a game with as many members as possible.
Our very best wishes
Rob Carvill – Club Captain
Anne-Marie Gane – Ladies Captain
Ian Gaskell – Seniors Captain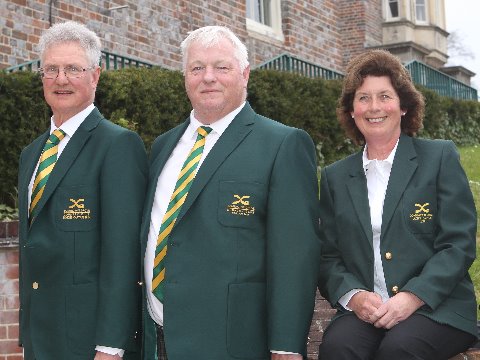 Your Captains for 2019/20
Rob Carvill (center), Anne-Marie Gane (right) and Ian Gaskell.
---
The Most Important Shot in Golf is the Next One, so why not join up with and meet other members who play in our members roll up times!? 

 
Members Roll Up
Every Tuesday & Thursday –  8:30 and 09:30
– Tee Times reserved for any Member to roll up, meet other members and play 9 or 18 Holes without having to worry about booking or looking for a game.
Ladies Roll Ups
Every Monday 9.00am  & Every Wednesday 11.00am 
– Tee Times reserved for any Ladies to roll up, meet other Ladies Members and play 9 or 18 Holes without having to worry about booking or looking for a game.
Seniors Roll-up
Every Monday 8.00am
– Tee Times reserved for any Seniors to roll up, meet other Senior Members and play 9 or 18 Holes without having to worry about booking or looking for a game.
Champagne Roll Up
Every Friday from 4.00pm till 5.45pm – £3 to enter – Champagne Prizes & Members Cash Draw (from about 8.00pm)
– Starting tee alternating each week
---
Meet the Team for 2019
General Manager | Nigel Green
Director of Golf | Tom Fleming – golf@donnington-grove.com
Course Manager | Head Green Keeper | David Knight
Club President | Tony Coleman (TC)
Club Captain| Rob Carvill
Vice Captain | Steve Lillywhite
Ladies Captain | Anne-Marie Gane
Seniors Captain | Ian Gaskell

Competitions Secretary | Andy Storer & Sandy Byfield
Treasurer | Gill Lane
Members Rep | Gary Rinaldi
If you have any ideas or issues that you would like to put forward to the committee then please contact any committee member above or email via the Club Captain on committee@donnington-grove.com